I found online, a group that helps photographers from all over challenge themselves. It is called 52 Frames. The concept is to take 1 photo each week for 52 weeks based on a different weekly themed. I thought, What a way to potentially help me grow as a photographer. I will post each photo that I take on here as I finish each weeks theme. #52Frames

Welcome to My Journey. What you will find in here in my blog are photos that I take as I build my Photography business and portfolio. I look forward to sharing my work with you as I grow, not only the business side of things, but also as a photographer.
Powered by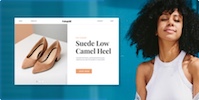 Create your own unique website with customizable templates.